Governor's Books from Birth Foundation promotes early childhood literacy efforts across Tennessee by supporting and sustaining Dolly Parton's Imagination Library in all 95 counties. Beyond the Imagination Library, volunteers in Northeast Tennessee are promoting early childhood literacy in other ways through these impactful mobile book buses in their communities.
Without exposure to rich texts throughout the summer, many students fall behind academically. Also known as the "Summer Slide," students, especially those from low-income families, can have the tendency to lose some of the achievement gains they made during the previous school year. These mobile book bus programs will work to prevent "Summer Slide" in students and help Tennessee meet the Read to Be Ready literacy goal of 75 percent of third grade students being proficient in reading by 2025. GBBF is providing funding, through an Appalachian Regional Commission grant, to launch these buses in Northeast Tennessee in partnership with three school systems. Additional funds are being raised in the local communities of the three school systems.
Here is a little bit more about the mobile book buses in the three Northeast Tennessee School systems:
Elizabethton City Schools "Betsy Book Bus"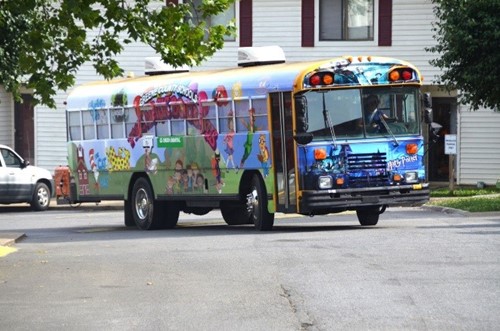 Elizabethton City Schools is proud to offer the Betsy Book Bus program in the summer of 2018. The purpose of the program is to improve literacy outcomes in underserved student populations in various communities of Elizabethton. The Betsy Book Bus will deliver books in neighborhoods and summer programs to children ages birth to 18 who may select a book from the bus to keep and add to their home libraries. Volunteers will also be on board to enroll eligible children in the Imagination Library. If children would like to board the bus for a new book this summer, please check out this tentative schedule and locations to make plans to meet the Betsy Book Bus. The Elizabethton program is made possible through the donation of books by Elizabethton families, the donation of the bus by Elizabethton City Schools, an Appalachian Regional Commission grant through the Governor's Books from Birth Foundation, support form the First Tennessee Development District and generous community sponsors including Northeast Community Credit Union, Carter County Bank and others.
Unicoi County Schools Book Bus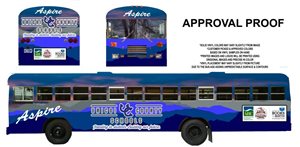 The Unicoi County Schools Book Bus program will offer a valuable opportunity for children and families in targeted areas across the county during the month of July when there are fewer existing school programs in operation. The focus will be on early literacy, and the program will capitalize on a child's natural curiosity and love for books, through interactive read-alouds, songs, poems, stories, and connected experiential learning. With the research indicating the vast majority of students who are not proficient in reading by third grade often continue to struggle, opportunities such as these are impactful. There will also be a family education, health and nutrition component that Unicoi County School's partners will help support. Unicoi County will name the bus, ASPIRE (meaning to direct one's hopes or ambitions towards achieving something). The mobile book bus, ASPIRE, will carry the message to children and the community that within each person lies the potential to achieve their hopes and ambitions. View pics of the mobile book bus launch on June 6, 2018 here.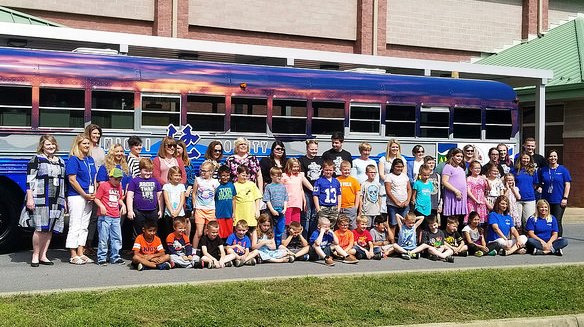 Carter County Schools Book Bus
The Carter County School System is excited to partner with GBBF to develop a summer mobile literacy unit. This "book bus" will serve the outlying areas of the district in the summer to increase and promote literacy in rural areas that do not have access to a local public library. This grant will help the school system along with community partners and high school CTE programs to reach this goal. The goal of the mobile book bus is to place books in the hands of students to enhance reading proficiencies in Carter County and to promote a love of reading in the community. The book bus will be a Carter County School bus retrofitted to prepare for shelving and storage for books.