In 2014, Governor's Early Literacy Foundation released "An Impact Analysis: Dolly Parton's Imagination Library in Tennessee, 2004-2014," demonstrating how the Imagination Library program is making a difference in early childhood literacy based on 10 years of research conducted within Tennessee and across the United States. While the studies conducted varied in their scope and methods, they all aimed at collecting and analyzing evidence of the effectiveness of the Imagination Library program.  Its conclusions show that the Imagination Library is not only a program that lights up children's faces when they find a book addressed to them in their mailbox—it's also a program backed by statistical research that shows the strong educational and social advantage received by participating children as they enter kindergarten and even continuing into elementary school. This meta-analysis summarized eight key program impacts. Below are the key impacts, take-aways and a link to download the full meta-analysis.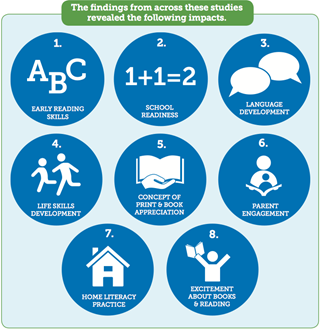 The findings from across these studies revealed the following key program impacts:
Early Reading Skills
School Readiness
Language Development
Life Skills Development
Concept of Print & Book Appreciation
Parent Engagement
Home Literacy Practice
Excitement About Books & Reading
Top 10 Take-Aways
Children who participated in the IL program are more likely to be performing at grade level and least likely to be performing below grade level than their non-participating peers
Children who participated in the IL program were more likely to score higher on literacy assessments, even into third grade
Parents of children receiving Imagination Library books say they read together more often and this activity, coupled with close adult-child interaction using Imagination Library activities, improves the child's speaking skills and vocabulary
Skills such as math scores and cognitive skills are significantly improved with participation in the Imagination Library
Participation in the Imagination Library program does help develop positive social-emotional and behavioral skills
Imagination Library participants are able to acquire a basic understanding of print and book component concepts, including separate words and letters and book-handling skills
Program participation promotes one-on-one time for reading and nurturing between children and adults
Having books in the home has been consistently proven to be a predictor of children's academic success, and in Tennessee, the GBBF helps each family build a library of as many as 60 books, instilling pride and a sense of self-esteem in the young recipients
Love and understanding of reading is shared among children, families and communities participating in the Imagination Library
Imagination Library participation may affect the overall amount and quality of parent-child interactions and lay the foundation for adults' consistent involvement in their children's learning and development.
Click here to download the full meta-analysis report.