Sharon Scruton, a professor of children's literature at Bethel University in Mckenzie, Tennessee, describes how her family has developed a multi-generational love for reading through the gifting of books. First as a mother of three children and now as a "grandma" to two grandchildren, there is one present that Mrs. Scruton has continually given during each holiday season and that is books for everyone on her list! 
Mrs. Scruton and her husband, who is also an English professor at Bethel University, were raised in homes that instilled in them a love for literature and story-telling. Mrs. Scruton fondly recalls that during her childhood, reading was an all day, every day experience, not just something done before bedtime. She even describes that her mom bridged her love for both reading and writing by filling up daily journals and writing letters to her sons who were in the military. Products of the Great Depression, neither of Mrs. Scruton's parents finished their formal education past the eighth grade, but still made sure that their own children were aware of the power of books.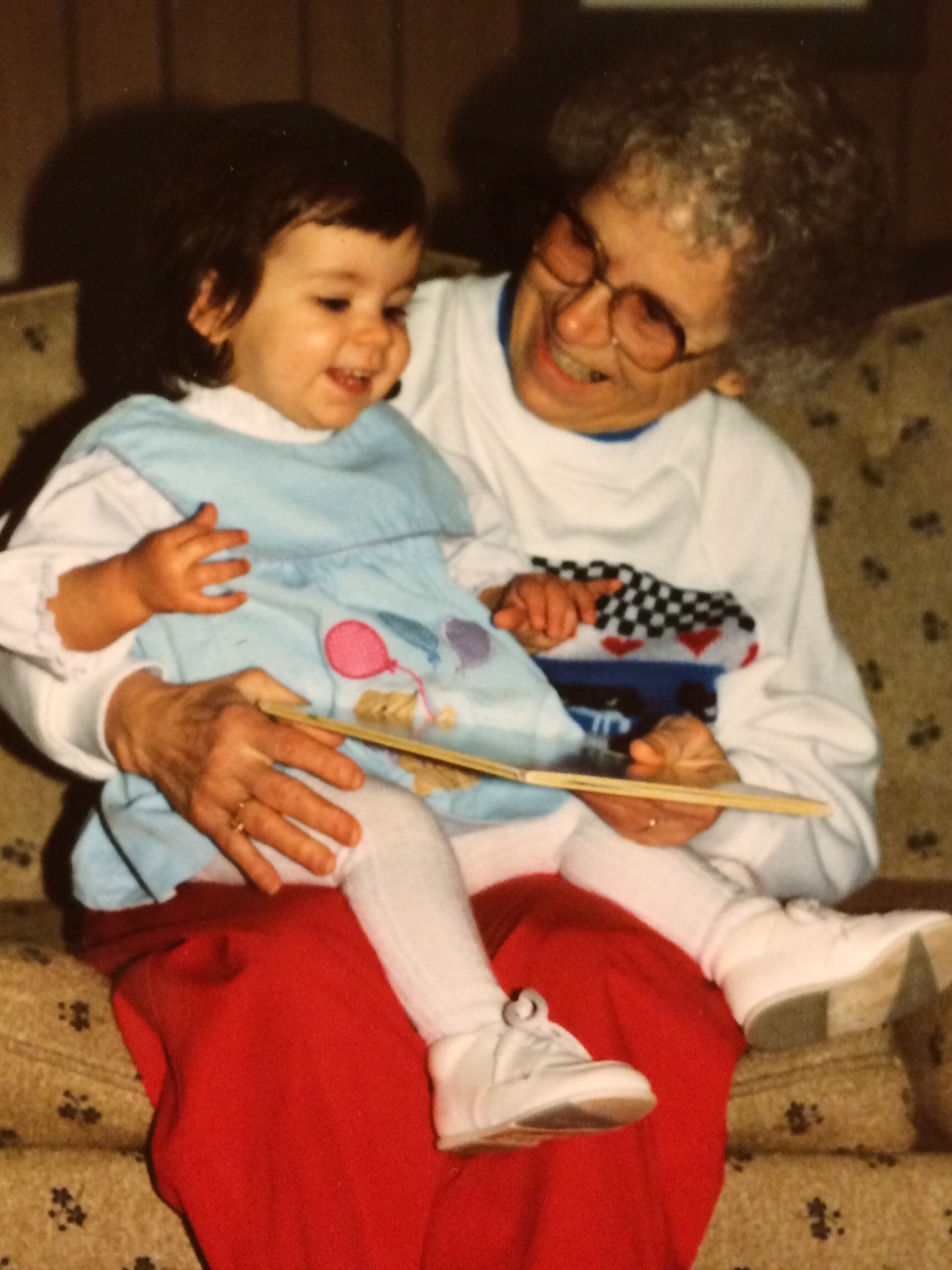 Pictured: Mrs. Sharon Scruton and her mother
This knowledge transferred into her own parenting, as Mrs. Scruton began to create a tradition of gifting books to her own children. Outside of giving books, she describes how literacy was central to many of the practices and experiences that her family shared together. As the children got older, they would have a single chapter book that everyone in the family would read at once. Each family member would use their own personal bookmark to stamp their place in the book each day, creating a natural "race" within the family to finish first. Mrs. Scruton also recalls that while raising her children, she would often use characters in books to discuss hard topics or real-life moral dilemmas in a way that was not personal or confrontational. 
Pictured: Novel with Racing Bookmarks
Fast forwarding to present day, Mrs. Scruton's three adult children have carried this love for literacy and books into their own lives. She describes how one daughter has assisted in donating books to a local women's shelter and helped drive a campaign that donated over 1,000 books to a low-income elementary school. Another daughter participates in book clubs with friends to balance the reading she does as a lawyer. Her adult son is currently writing a literary dissertation for his Ph.D. in English.
As for her grandchildren, you guessed it, they also display a love for reading and eagerly expect the arrival of books as gifts from their grandparents. Mrs. Scruton gives each grandchild around 20 books per year, many of those around the holiday season. She gives both new books and used books, even stating that used book stores are her favorite spot to shop.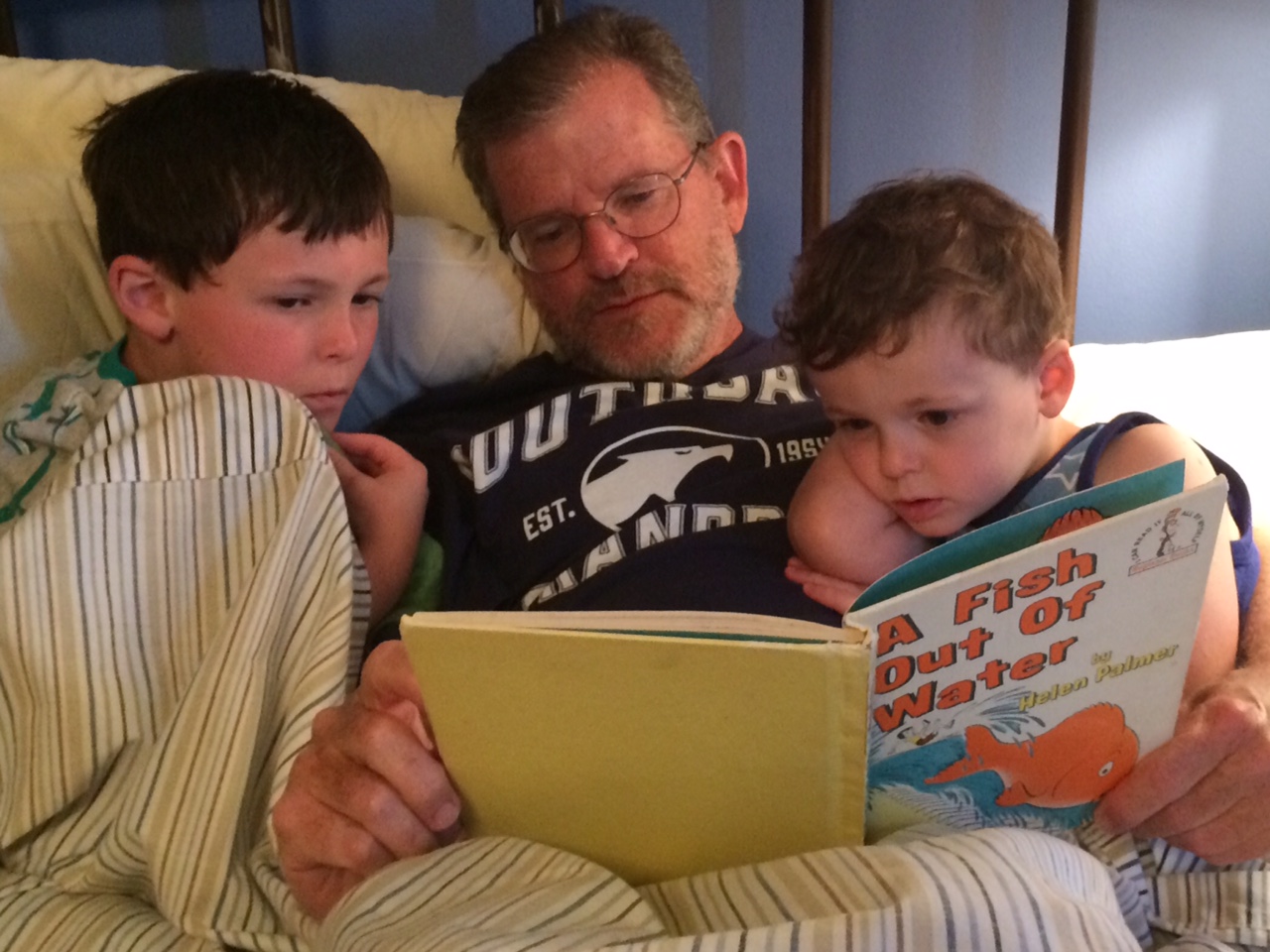 Pictured: Dr. Jim Scruton with Grandchildren (left), and grandchildren reading (right).
Reflecting on the tradition of reading that she has created within her family, Mrs. Scruton states "One of the single best things about books is that they allow me to connect with my children, and grandchildren, physically as they snuggle up on my lap or next to me in bed. They ask me questions and we create conversation." What started as a love for reading displayed through her own parents has now been passed down to her children and then grandchildren. When asked if she feels that her grandchildren will continue the tradition, she smiles with an emphatic "yes." 
GIVE THE GIFT OF BOOKS
You can give the gift of books this year by donating to Governor's Books from Birth. Just $12 provides one child with one book a month for a year. A gift of only $60 provides a child with a book a month for five years. Spread the joy of reading this holiday season by giving the gift of books today!
Did you know that Governor's Books from Birth Foundation, through Dolly Parton's Imagination Library, gives books each month to Tennessee children from birth to age five, at no cost to the family? If your child is not enrolled in this monthly book gifting program, click here. If you have recently moved and need to update your address in order to continue receiving books, click here.
Blog written by Dr. Lauren Tate, Early Literacy Specialist for the Governor's Books from Birth Foundation and Assistant Professor of Education at Bethel University.