We are kicking off a new year! That means many of us will be making resolutions and setting goals we want to accomplish. Let's add reading with children to those resolutions. From visiting a Storybook Trail… learning how to read interactively… providing the gift of books to children in your community, you can make a difference in a child's life. Below are some easy ways to make reading a part of you and your child's day and every day in the new year. Do you have your own reading tips and resolutions? Post them on social media and tag Governor's Books from Birth Foundation, so we can share your ideas with other families.
1. Visit a Storybook Trail.
Visiting one of the 6 Imagination Library Storybook Trails at Tennessee State Parks is an outdoor reading activity that is fun for the whole family. Tennessee State Parks Imagination Library (IL) Storybook Trails tell a nature-themed IL story on signs placed at a child's height throughout a short trail at a park. The trails feature reading tips on each page panel to bring the book to life with the surrounding nature. In addition to promoting literacy, and parental engagement, IL Storybook Trails encourage families to connect with nature and engage in a healthy, outdoor activity. For more information about our Storybook Trails and where to find them, click here.
 
2. Learn best practices for reading-aloud.
There are many great resources filled with tips and techniques for taking you to the next level of reading to your children. GBBF offers a list of tips to engage your children with books and provides downloadable activities that correlate with Imagination Library books. For these resources and more, visit https://www.governorsfoundation.org/engage/engage-with-your-child.
 
3. Create a special reading place in your home. 
A favorite chair, a reading nook, pillows piled up on the floor, or snuggled under a favorite blanket — there are many ways to make special reading nooks for your children. Encourage your child to create his/her own special library in your home.
 
4. Visit the TN State Museum Imagination Library Storytime.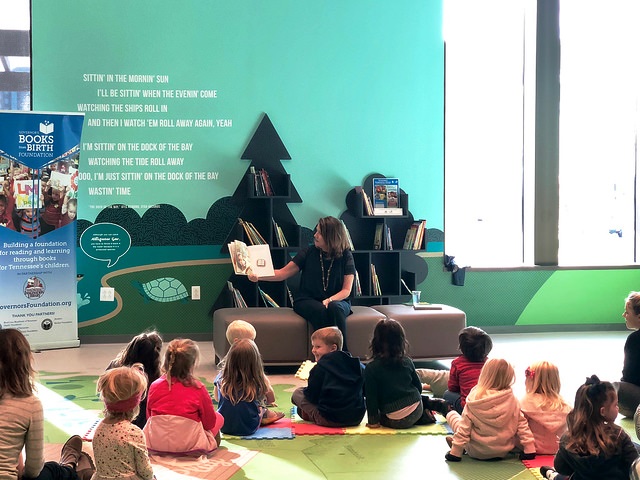 Governor's Books from Birth Foundation (GBBF) partnered with the newly renovated Tennessee State Museum to launch a weekly Imagination Library Storytime in the children's area, featuring an Imagination Library book and special guest reader each week. Additionally, an Imagination Library Reading Corner was added to the children's area, and GBBF donated over 40 books for families and children to enjoy. We encourage you to visit this state-of-the-art museum. Every exhibit is interactive and fun for the whole family. Admission is free! Imagination Library Storytime will occur every Thursday morning. Click here for more information about the TN StateMusem Storytime. 
 
5. Give books as gifts.
Books increase in value for a child when they come as a gift from someone special, or on a special occasion. Every occasion is the right one for giving the gift of books! A child's own book collection, even if small, is very important. Want to give the gift of books to children in your community? Donate to Tennessee's Imagination Library and help provide high-quality, age-appropriate books to Tennessee preschoolers each month in the mail. To donate, clcik here. You can designate your gift to a specific county.
 
6. Incorporate reading everywhere. 
Many parents read with with their children at bedtime. You can also make reading a part of your daily routine by taking books with you on the go or by reading words in the grocery store or on street signs while driving. Ask your child to repeat the words and find things around them that are in the story. Of all the activities you enjoy with your children, few will be as satisfying and as impactful as reading aloud regularly. The bonding, benefits and memories will last a lifetime. Reading time can be anywhere and anytime.
 
7. Create library traditions.
Making routine trips to the library and growing the love of books go hand in hand. Help your child keep ongoing lists of books he or she might want to check out, or growing topics of interest. Get a special library book bag for your child to fill, and make regular library visits an exciting adventure. For a list of the library locations in Tennessee, visit https://sos.tn.gov/products/tsla/tennessee-public-library-directory.
 
8. Model reading love.
"Children take cues from adults," says Shanna Schwartz, lead senior staff developer at Columbia University Teachers College Reading and Writing Project in New York City. "When you grow up surrounded by books, you like books." Annette Uvena, a mom of two reluctant readers, shares her excitement often: "I make sure they see me reading, but I also talk to them about the book. I'll excitedly point out something that reminds me of the story, because I want them to see that books bring me joy and will bring them joy too." 
 
9. Label objects in your home.
Make it impossible for your little one to avoid reading. Write the words of objects in your home on plain index cards and tape the index cards to those objects. Label everything from doors and windows to favorite toys. 
 
10.  Make Connections to Books.
Does your child remind you of Max from Where the Wild Things Are? Has he ever had a "terrible, horrible, no good, very bad day" like Alexander? Point out the connections between your child and his favorite characters, and share stories to help teach important lessons and get through difficult situations. Hand your child a potty-training classic such as Once Upon a Potty while he's sitting on his throne. 
Make sure reading is part of every day this year! #ThisIsWhatLiteracyLooksLike