PRESS RELEASE
December 14, 2021
As the demand for holiday assistance in Waverly has nearly tripled, the Foundation partners with Amazon and the Tennessee Department of Education to rebuild 829 libraries with book donation to students and teachers in the community
Dec. 14 2021, Waverly, Tenn. – Governor's Early Literacy Foundation (GELF), with support from Amazon and the Tennessee Department of Education, donated 8,300 books to 829 PreK – 3rd grade students and teachers in Waverly who were affected by flooding in August 2021.
In collaboration with Scholastic, books and learning resources were given to teachers and students in three elementary schools: Lakeview Elementary School, McEwen Elementary School and Waverly Elementary School. Waverly Elementary School was destroyed during the floods, so all elementary school students and teachers are currently located on two campuses.
The donation, which was celebrated at a book distribution event on December 14 at Lakeview Elementary School and McEwen Elementary School, included ten book packs for all K-3 students and teachers, classroom library sets for five pre-K teachers, more than 150 hardback books to replenish the Waverly Elementary School library and reading engagement guides for all caregivers of K-3rd grade students.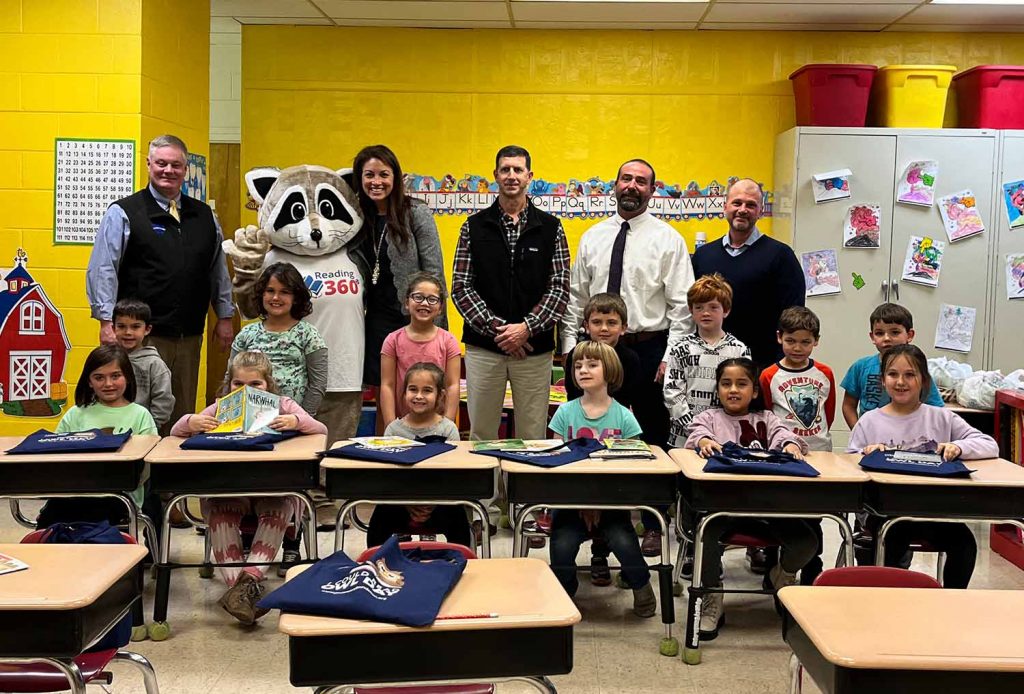 "Some of our teachers lost all of their teaching supplies in the flood, and all of the teachers at Waverly Elementary had to be relocated," said Megan Odle, Humphreys County Reading Specialist. "This generous gift not only reminds our teachers, students and entire community that we have not been forgotten, but it also allows our teachers to replenish some of their lost teaching items to continue to strengthen our students' literacy skills."
The Waverly community is still struggling to recover from the flooding, especially as the holidays approach — demand for Waverly Angel Tree assistance has nearly tripled from last year. In all, 272 homes in Waverly were destroyed, including libraries of books in homes as well as schools.
"Not only were our neighbors' homes destroyed during the devastating flooding, but home libraries filled with children's favorite books, and classrooms filled with learning and opportunity," said James Pond, president of GELF. "Tennesseans come together to support one another, and we are so honored to help rebuild libraries for students and teachers in Waverly. The gift of reading not only gives children the opportunity for a brighter future, but it can bring comfort and safety during a difficult time."
As part of GELF's end of year "Giving Back, Moving Forward" campaign, this initiative was made possible through support from Amazon and the Tennessee Department of Education (TDOE).
"Focusing on early literacy and ensuring our young learners have every opportunity to read on grade level by 3rd grade is essential to their future success and the success of our great state," said Commissioner Penny Schwinn, who attended the donation ceremony. "The department is thankful to the Governor's Early Literacy Foundation for their commitment and support of this goal and proud to partner with them on the Giving Back, Moving Forward campaign."
"We've been proud to partner with GELF on several of their programs in recent years, and I've seen firsthand the difference they make in Tennessee," said Courtney Ross, Amazon's Sr. Manager of External Affairs in Nashville. "There is something magical about the connection parents and children share through reading together and, as a company, we're happy to contribute this season as GELF continues this vital work."
GELF encourages Tennesseans to give the gift of reading to children and families this holiday season by donating to their cause. For more information on how to donate, visit GovernorsFoundation.org.
About Governor's Early Literacy Foundation (GELF)
Governor's Early Literacy Foundation (GELF) equips Tennessee's children with books and innovative literacy tools that encourage lifelong learning for a brighter future. GELF is a nonpartisan 501c3 driven by a mission to strengthen early literacy in Tennessee by acting as a thought leader, advisor, and catalyst for programs across the state. These programs include Birth-5 Book Delivery through Dolly Parton's Imagination Library, K-3 Book Delivery, Caregiver Engagement, Book Buses, and Storybook Trails. GELF was founded in 2004 by former Gov. Phil Bredesen as a public-private partnership to sustain Dolly Parton's Imagination Library in Tennessee. GELF has grown from solely a book-gifting program to an early literacy organization driven by a vision where all Tennessee children have access to the resources, guidance, and support they need to become lifelong learners. For more information, visit www.GovernorsFoundation.org.