Governor's Books from Birth Foundation (GBBF) and Cracker Barrel Old Country Store Foundation recently celebrated the launch of an Imagination Library enrollment partnership with the American Red Cross to support babies born at Blanchfield Army Community Hospital (BACH). Emphasizing the benefits of reading with children from birth, this partnership gives every family with a newborn delivering at BACH the opportunity to enroll their child in the Imagination Library program. Enrolled children, from birth to age five, will receive one book per month mailed to their home, at no cost to the family.
https://www.dvidshub.net/video/692313.m3u8
"As the president of Governor's Books from Birth Foundation and being a Marine Corps veteran, this is a very special partnership," said James Pond, GBBF President. "It speaks highly of the care and concern for the children of our military families, as well as, the critical nature of early literacy in the health and wellbeing of our youngest population. We are grateful for the participation and commitment of Blanchfield Army Community Hospital, the American Red Cross and the leadership of Fort Campbell to ensure this critical program is accessible to all eligible military families. Thank you."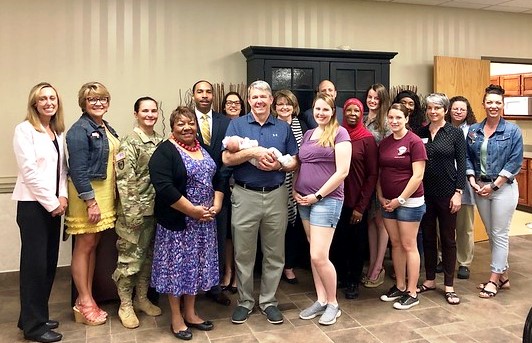 GBBF promotes early childhood literacy in Tennessee by sustaining the statewide Imagination Library program and initiatives such as Tennessee State Park Storybook Trails and Summer Mobile Literacy Units In 2014, GBBF began to partner with birthing hospitals to enroll newborns into the Imagination Library. While Cracker Barrel has long focused its philanthropic giving and support on military families, this is the first military children-focused Imagination Library enrollment partnership for GBBF and Cracker Barrel, and the first partnership of this kind at a military hospital in the country.
In celebration of this partnership, GBBF Vice President Dean Hoskins, Cracker Barrel Old Store Foundation President Terry Deas and retired Brig. Gen. Scott Brower offered remarks and honored families at the hospital who have enrolled their newborn in the program.
"From the birthing hospital initiative we've enrolled 33,002 children," said Dean Hoskins, vice president of Governor's Books from Birth Foundation. "We wanted to catch children at birth and wanted parents to understand how important those first three years are, specifically with brain development around vocabulary, and to begin reading to that child from birth. It really is important for a child to hear words."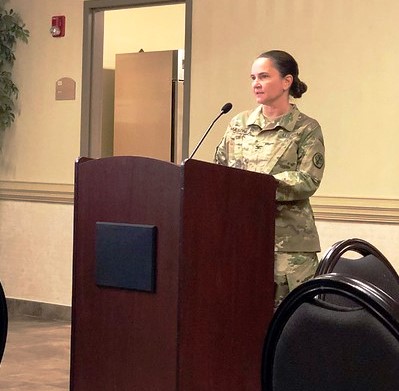 "Starting in infancy, talking, singing, and reading books out loud together helps develop language and phonics skills, sparks curiosity and imagination, and helps develop strong bonds between parents and children," said Maj. Suzanne M. Wical, a pediatrician and chief of pediatrics for BACH. "Research shows that parents who read to their children help promote not only language skills but also increase academic performance and social development. This time together should be special and individual to you and your child."
No matter where the books come from, Wical recommends parents read together every day with their young children, even if it is only for a few minutes.
"Make the time fun, let your child choose the book, and engage them in the story and illustrations. Point to and identify objects, colors, and shapes, and follow your child's lead. You'll be amazed at the results," said Wical.
To date, there are 24 hospitals participating in GBBF's birthing hosptial initiative enrolling 33,002 babies. For more information about GBBF's birthing Hospital Initiative, click here.
To view more pictures from the event, click here.