The Tennessee Department of Economic & Community Development (TNECD) and the Tennessee Department of Labor & Workforce Development (TDLWD) join Governor's Books from Birth Foundation (GBBF) during Tennessee's Imagination Library Week (Sept. 17-23) to honor the program's early literacy impacts on workforce development. At a celebratory event on Monday, First Lady Crissy Haslam, TNECD Commissioner Bob Rolfe, and TDLWD Commissioner Burns Phillips read to students from Caldwell Elementary in the Senate Library of the Tennessee Capitol to celebrate the program's role in preparing Tennessee's children from cradle to career.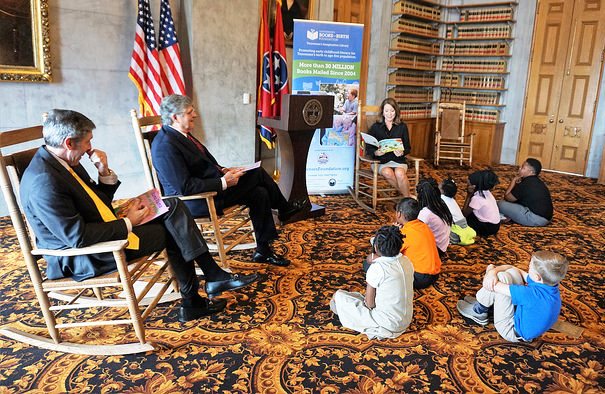 "When we come together and align our resources around early literacy and education, we can truly make a difference for Tennessee's children," said First Lady Crissy Haslam. "Tennessee's Imagination Library helps our children develop the early literacy and life skills to ensure their educational success, from kindergarten to the Tennessee Promise. Bill and I are proud of TNECD and TDLWD's recognition of early literacy in preparing our children from the 'cradle to career'."
The core mission of GBBF is to promote early childhood literacy in Tennessee's birth to age five population. In partnership with Dolly Parton's Imagination Library, GBBF gives all preschoolers in Tennessee the opportunity to receive high quality, age-appropriate books in the mail each month at no cost to families. Research shows early exposure to books improves cognitive skills and is consistently proven to be a predictor of academic success.
Under the leadership of Governor Bill Haslam, TNECD has received commitments from more than 1,100 companies to create over 147,000 jobs during the administration. This economic growth places a tremendous strain on the workforce pipeline, reinforcing the importance of education and early literacy in preparing Tennessee's students for jobs.
"Early reading skills are imperative to educational success and essentially lay the foundation for a talented workforce in the future," TNECD Commissioner Bob Rolfe said. "The Governor's Books from Birth Foundation is critical to economic and workforce development, and I applaud their efforts to promote and build early childhood literacy."
Studies find that students who have not developed basic literacy skills by the time they enter school are three to four times more likely to drop out of school later. Tennessee research shows that Imagination Library participants enter school more prepared to learn, score higher on reading assessments into the third grade, and are more likely to have better school attendance and reduced rates of suspension.
In assessing workforce needs with employers, TDLWD finds that employers consider literacy skills, including the ability to read, comprehend and effectively communicate what they read as essentials skills in a workforce. "Helping a child embrace learning at a young age makes all the difference in the world," said Commissioner Phillips. "When reading is a staple in a child's life, learning becomes second nature and that leads to a well-educated workforce, which is a tremendous asset for Tennessee."

Imagination Library participants have access to books prior to entering kindergarten, exposing them to basic print awareness and book handling skills, both essential concepts for future literacy development. Impacts of Tennessee's Imagination Library include early language development, school readiness, and higher educational outcomes through the 5th grade.
By supporting Tennessee's Imagination Library program, GBBF funds 50% of the monthly cost of books and mailing statewide. GBBF envisions a Tennessee where all preschool children have books in their homes, develop a love of reading and learning, and begin school prepared to succeed, from kindergarten throughout their educational journeys. All of these organizations support the statewide Read to Be Ready education goal of increasing the reading proficiency level of third graders to 75% by 2025.

"As we celebrate Tennessee's Imagination Library Week, it is deeply gratifying to have strong partnerships with both TNECD and TDLWD, who share the common belief that a foundation in early literacy provides children with lifelong educational success, paving the way for economic stability and a good quality of life." said GBBF President Theresa Carl. "It takes all of us to make this collective impact on our children, and we are proud to stand with TNECD and TDLWD as we work together for Tennessee's children."
Proclaimed by Gov. Bill Haslam, Tennessee's Imagination Library Week is Sept. 17-23. This year, GBBF celebrates over 30 million books mailed to Tennessee's children since 2004. Join the celebration on social media and participate in the #GotCaughtReading social media challenge by posting a photograph of you reading with a child. As part of the campaign, First Lady Crissy Haslam "got caught reading" at the event. Regional staff from both TNECD and TDLWD are also joining the challenge by reaching out to local Imagination Library programs across Tennessee.
For more information on how to celebrate Tennessee's Imagination Library Week on social media and get involved in your community, click here.
To view more pictures from the event, click here.