We are so proud of the community awareness that surrounded Tennessee's Imagination Library Week 2018. Keep reading to see all the buzz around Tennessee!

IN THE NEWS
13 news articles were published across the state.
(representing 11 counties)
Below are links to read a few of the stories, highlighting the #GotCaughtReading social media campaign and other celebrations during Imagination Library Week.
WHO #GOTCAUGHTREADING?
We were so excited to have so many organizations, businesses and individuals participating in the 2018 Imagination Library Week #GotCaughtReading social media celebration. There were more #GotCaughtReading social media posts than ever before. Hundreds and hundreds of posts appeared during the week of September 16 to 22… all featuring the joy of reading!
543 #GotCaughtReading posts on Facebook, Twitter and Instagram.
That beat last year's record by 200%!
GBBF gained +137 "likes" on all social media accounts.
41,671 people were reached on social media.
GBBF's content was displayed 149,151 times.
2,474 users engaged with our social media pages i.e. clicked, posted, shared, etc.
Participants included: 286 affiliates, 250+ public figures, businesses, etc., 2018 gubernatorial candidates Bill Lee and Karl Dean
Shout-out to Rhea County Imagination Library and Obion County Reading Railroad for sharing over 50 posts! We picked a few pictures to be our #GotCaughtReading featured pics. Check out a couple of these featured pictures below. To see more #GotCaughtReading pictures, click here.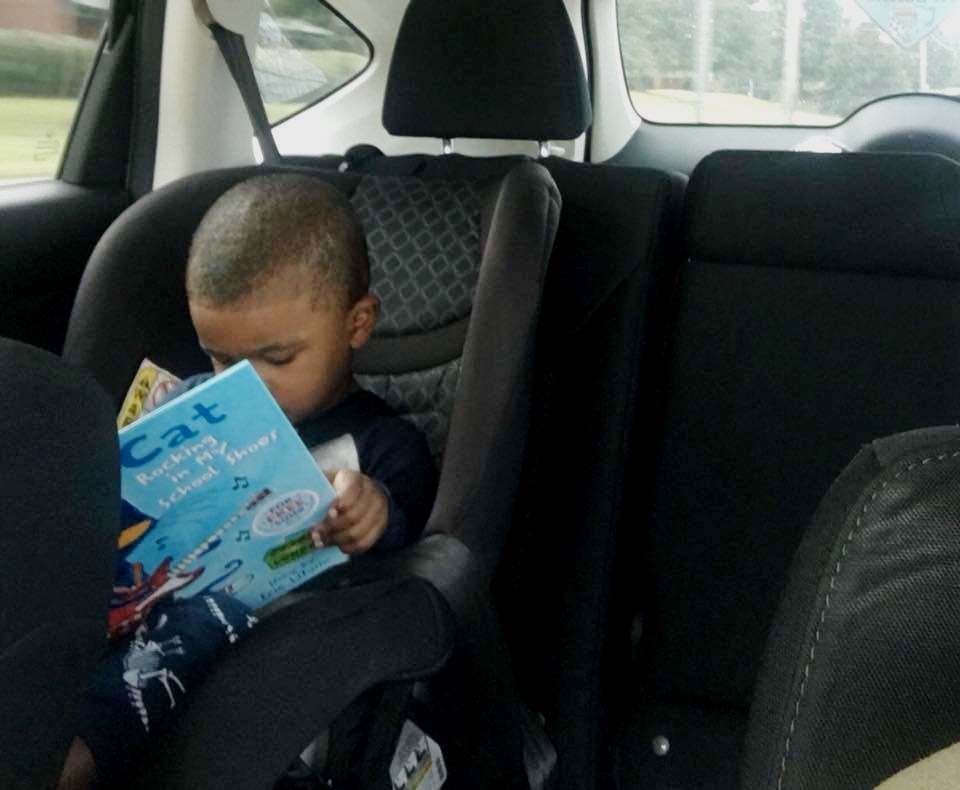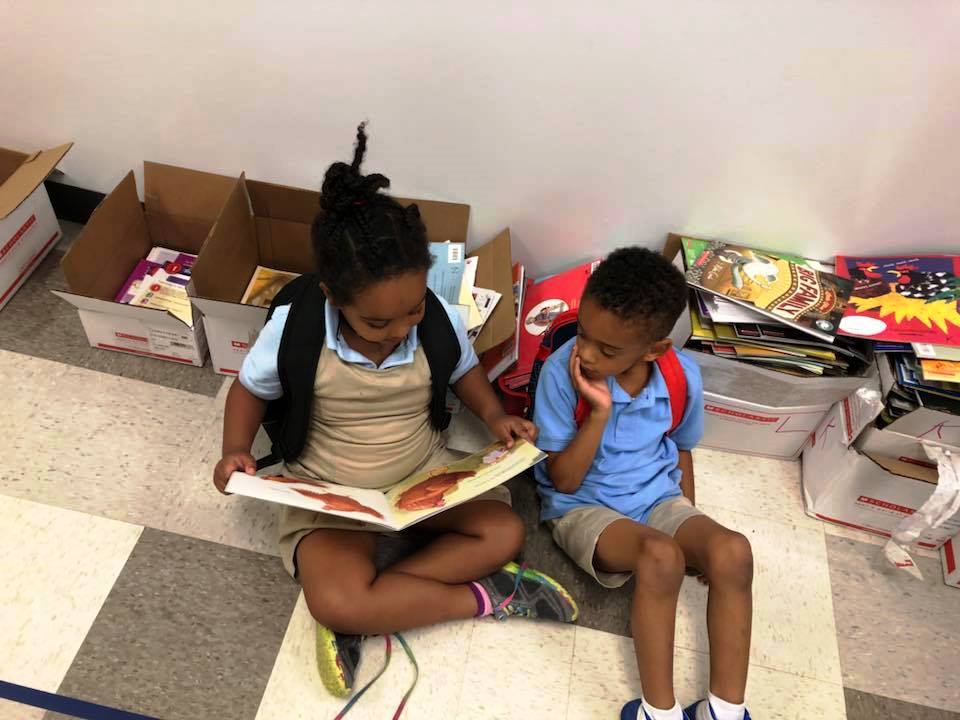 Tennessee Governor Bill Haslam & First Lady Crissy Haslam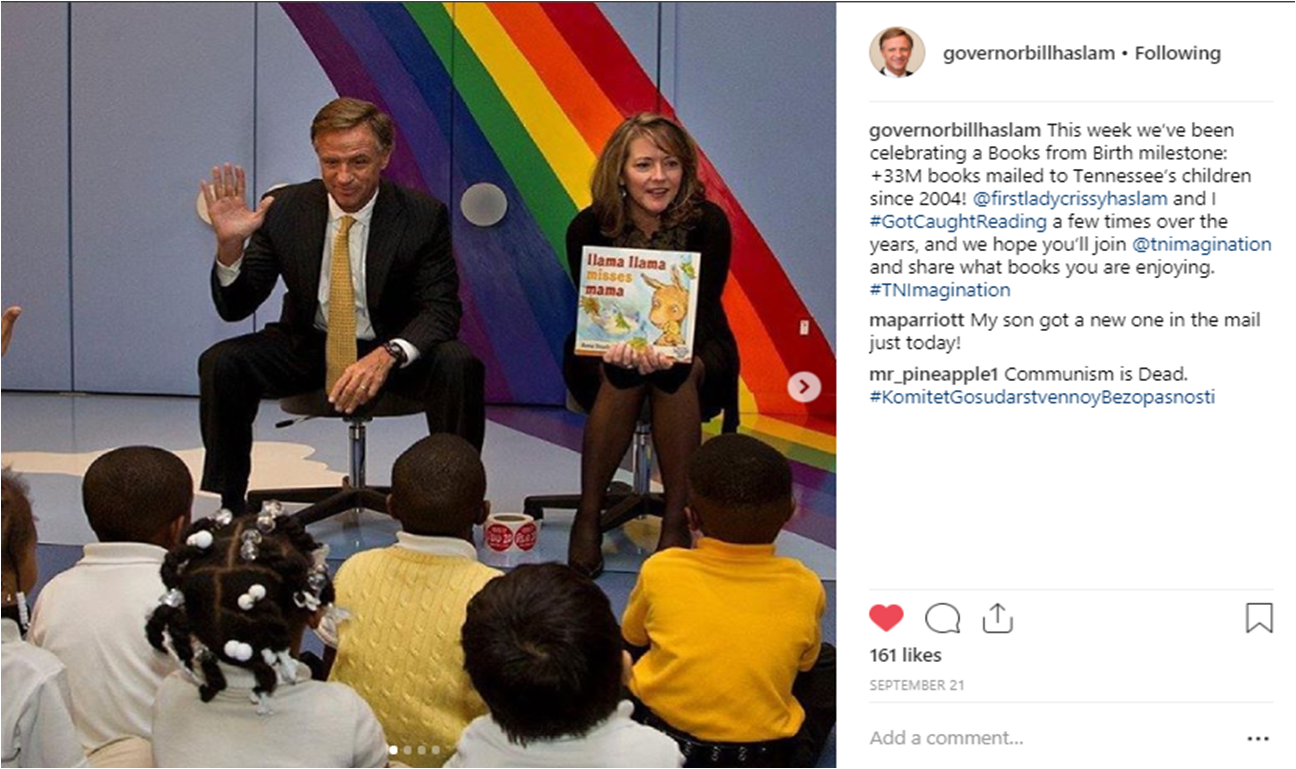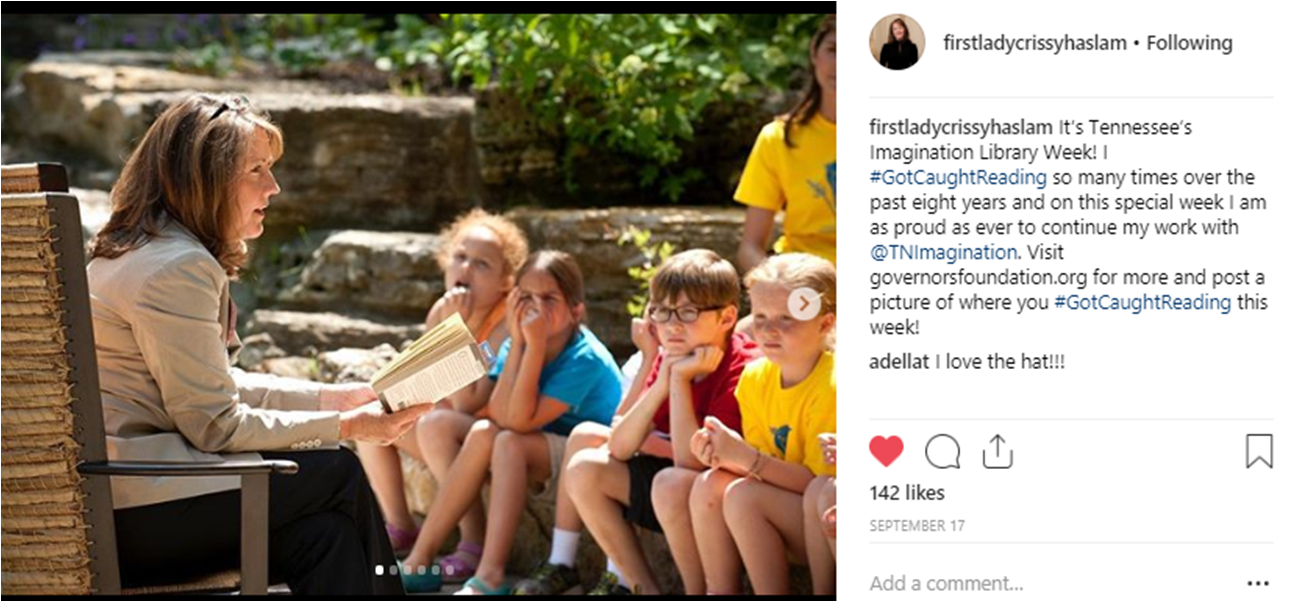 In addition to Governor and First Lady Haslam, we had several recognizebable names posting their own #GotCaughtReading pics. For example, BOTH gubernatorial candidates #GotCaughtReading! See their pictures below.
2018 Tennessee Gubernatorial Candidates
Karl Dean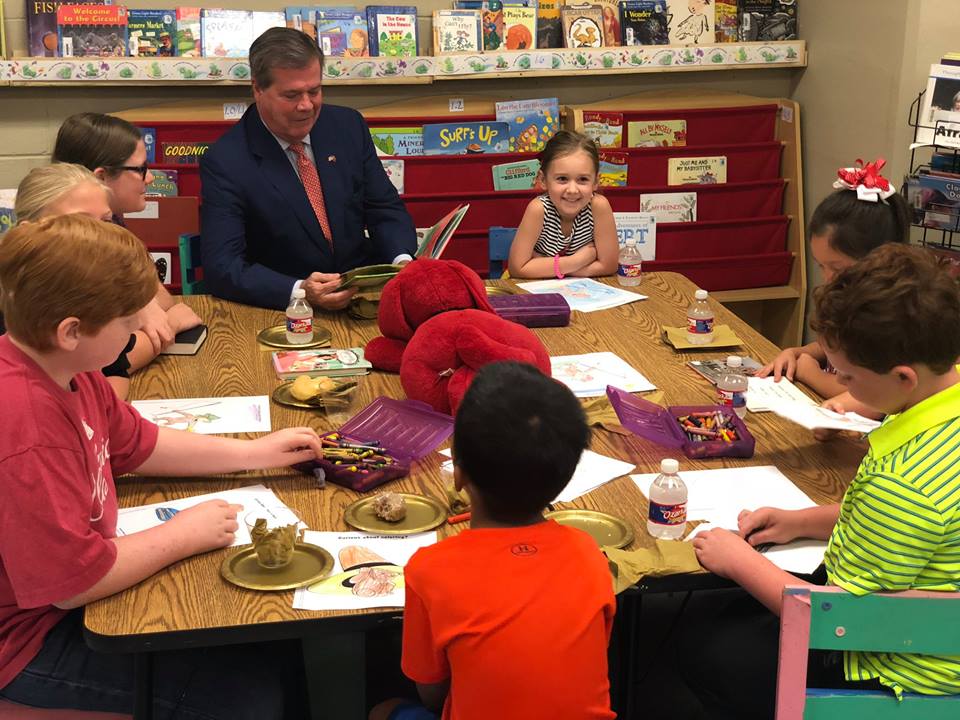 Bill Lee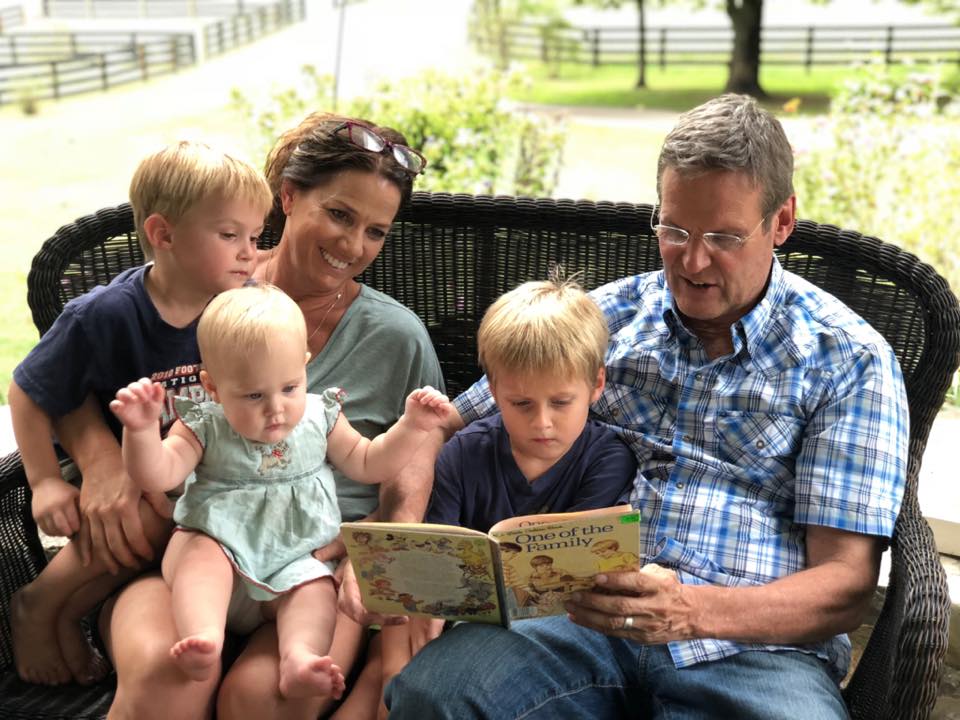 There were some great videos shared during Imagination Libary Week. We love this one posted by Gibson County Memorial Public Library featuring a bilingual reading from a father and daughter of the book I Hear a Pickle. Check it out below.
SPOTTED ON BILLBOARDS
26 billboards displayed GBBF's early literacy message.
There were 9 million total audience impressions (adults 18+) during the campaign.
With 14 digital boards across the state, our message was displayed 151,200 times each day, 3.2 million times total during the three-week period.

We are grateful to the Nashville Sign for featuring our Instagram feed 1,581 times during Imagination Library Week in addition to the billboard ad. It was so fun to look up at that big sign and see all the #GotCaughtReading pics! The Nashville Sign also hosted a social media give-away contest. Congratulations to the lucky family that received a bag of GBBF reading goodies.
EVENTS & CELEBRATIONS
In addition to the online celebration, there were several Imagination Library events happening across the state. See below for a summary of just a few of those events.

Sept. 19: Long Hunter State Park Imagination Library Storybook Trail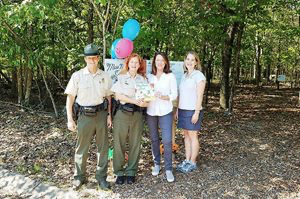 Tennessee First Lady Crissy Haslam joined several local pre-school classes to enjoy the Long Hunter State Park Imagination Library Storybook Trail. She read Imagination Library book Miss Maple's Seeds along the trail. Click here to view all of the pictures from the event.
Sept. 18: Delta Dental Radio Show
First Lady Crissy Haslam and Dr. Phil Wenk, President & CEO of Delta Dental of Tennessee and GBBF Board Member, #GotCaughtReading during Imagination Library Week at WSM-AM radio during Delta Dental's "What makes you smile?" segment. In honor of Imagination Library Week, Delta Dental chose to feature GBBF and Tennessee's Imagination Library on the monthly radio show. Thank you to First Lady Crissy Haslam for participating in the interview. We are grateful for partners like Delta Dental of Tennessee who help us bring Dolly Parton's Imagination Library to all eligible children ages 0-5 yrs in Tennessee! As Dr. Wenk said, an educated child is a healthy child! Click here to view all of the pictures from the event.

Sept. 18: Nashville Junior League presentation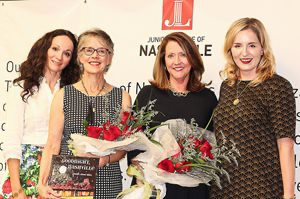 The Junior League of Nashville General Membership meeting welcomed Tennessee First Lady, Crissy Haslam and former JLN President and former GBBF President, Theresa Carl to help kick off Imagination Library week. First Lady Haslam and Theresa Carl spoke about the importance of early literacy and spreading the love reading to all children in Tennessee. The Junior League encouraged others to join the #GotCaughtReading social media campaign and said, "We thank you, Crissy and Theresa, for following the JLN's mission of 'improving the community through effective action and leadership of trained volunteers.'" The Junior League also partners with the Imagination Library of Middle Tennessee to host a storybook time complete with music and snacks. Click here to view the pictures from this event.

Sept. 20: Carter County Imagination Library Parade, Elizabethton

Some members of the GBBF team attended the annual Carter County Imagination Library Parade in Elizabethton. Click here to view pictures from this event.

Sept. 21: Stewart County Imagination Library Fall Salad Luncheon, Dover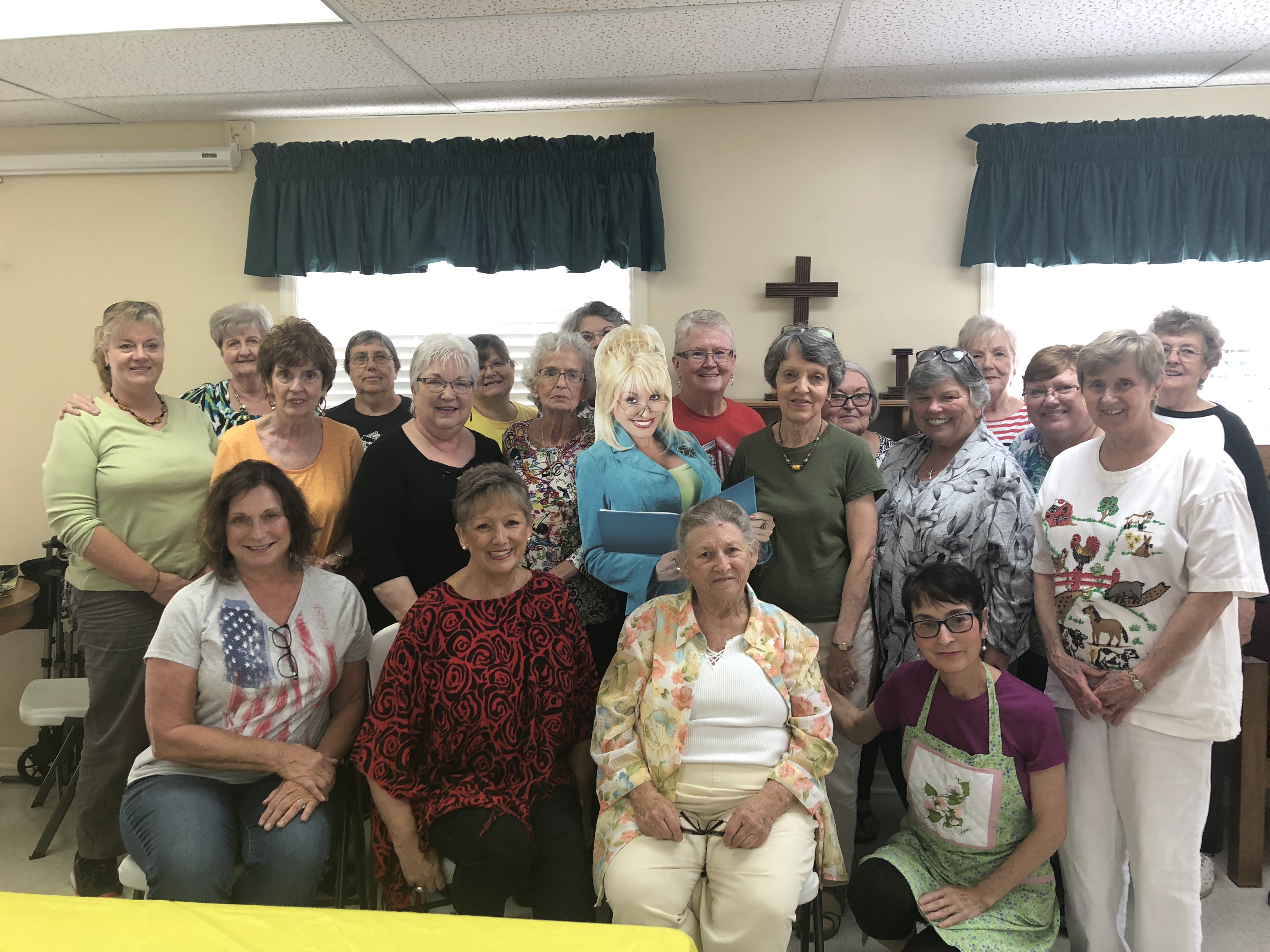 "Dolly" attended the Stewart County Imagination Library's annual Fall Salad Luncheon at Fort Donelson United Methodist Church. There were over 200 take-out orders and a line out of the door. Click here to view pictures from this event.